Transforming city parking lots into meaningful public spaces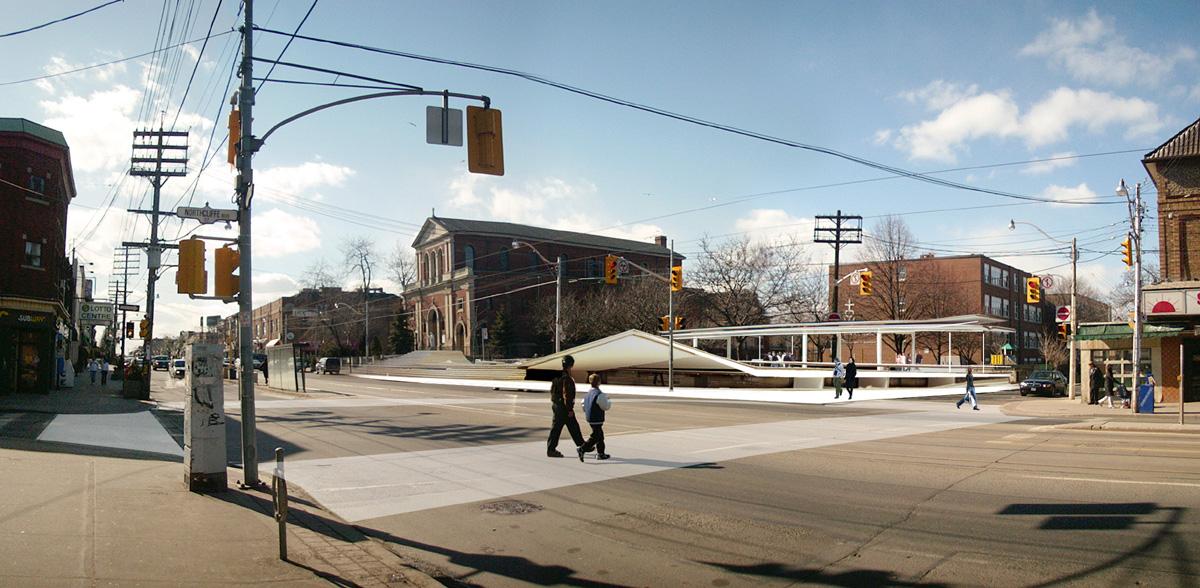 Proposed as a solution to a small school parking lot on St. Clair West a number of years ago, the Santa Chiara Piazzetta still has a certain relevance given the shortage of parks and public spaces in ever-densifying neighbourhoods, and can act as a template for other parking spaces in the city. Read more about the Santa Chiara Piazzetta solution on St. Clair West here.
The proposed strategy is to redesign an existing parking lot into a "half down, half up" arrangement that maintains parking space while introducing new, meaningful public space. The "half down" parking lot, covered yet open to the air and light, avoids the heavy engineering solutions that are typical of fully below-grade parking solutions. This design also eliminates the need for heating or cooling, an exemplary parking solution for a warming climate. "Half up," the new available land becomes a more performative public space, with areas for teaching, parks, and gardens.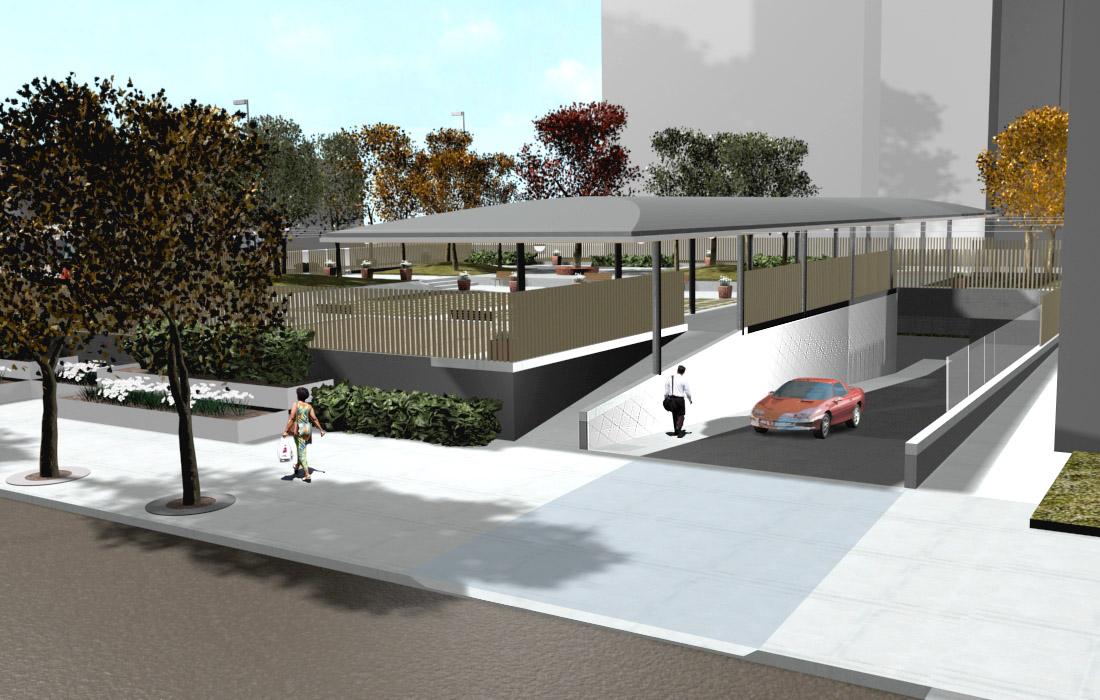 This double articulation of parking and park space, expanded and multiplied across the city, could provide a straightforward investment in an enhanced public realm. This double usage could be deployed in many of the public school parking locations that are currently being only used for staff vehicles, or in some of the many Green P municipal parking locations across Toronto.
Cycling and Electric Vehicle Charging Infrastructure
We are proposing this prototype for a wider application that could also include cycling and electric vehicle charging infrastructure. A further testing of this prototype as a pilot project could examine a number of different locations to further investigate the economics and social benefits that would go beyond simple replacement of the parking lots.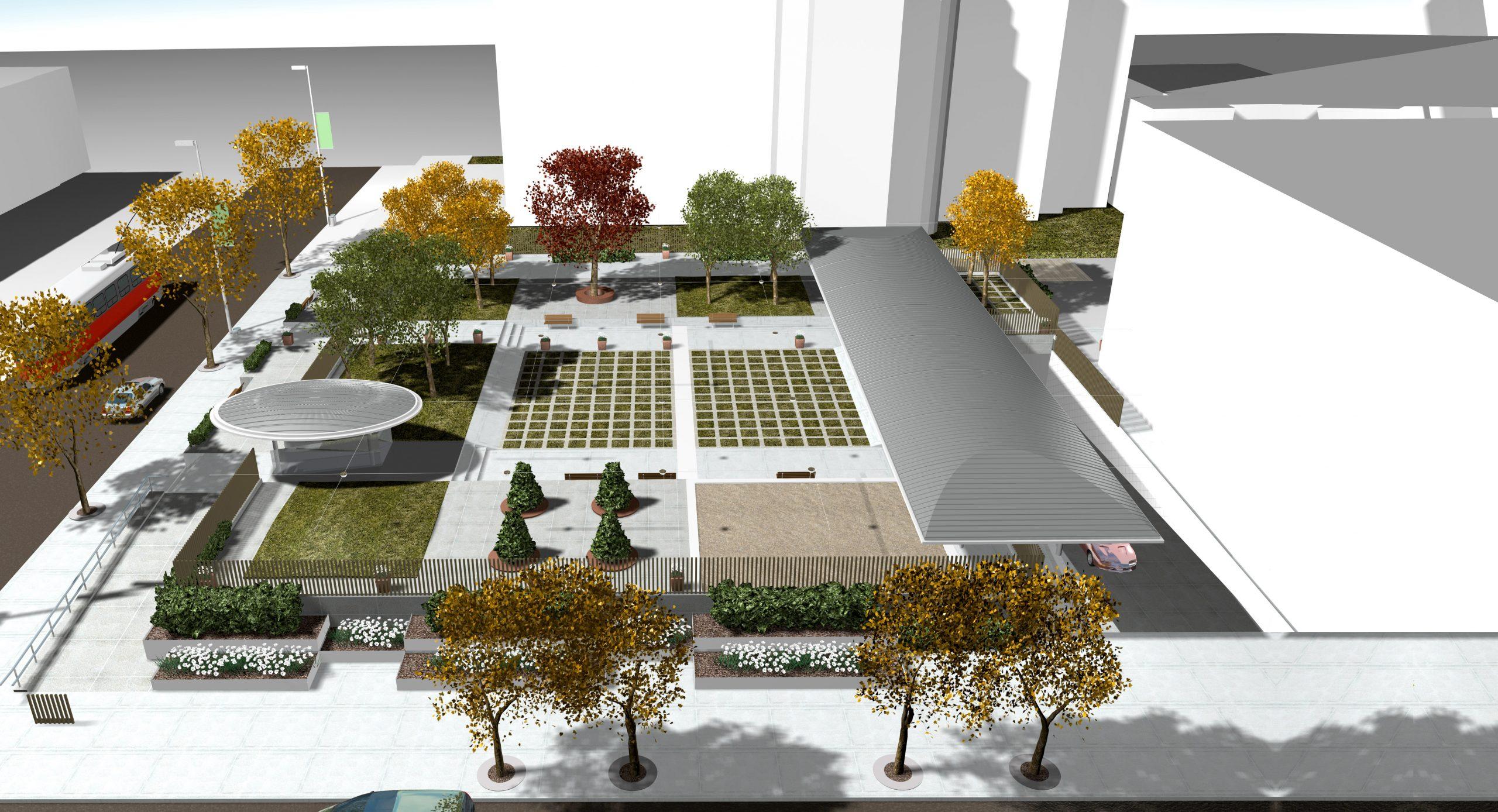 The existing condition of the small staff parking lot provides no public space values on St. Clair Avenue; the parking lot offers no continuity along the existing street space and functions as a "back condition" on a major street frontage. Further problematic, vehicular access into the parking lot disrupts pedestrian flow along St. Clair. The articulation of a pedestrian entrance, lighting, and open public gestures ensures the compatibility between the two different functions of the Piazzetta, ensuring simultaneous public safety and environmental responsiveness.