The Un-Avenues: Integrating New Intensity for Housing, Open Spaces and Streets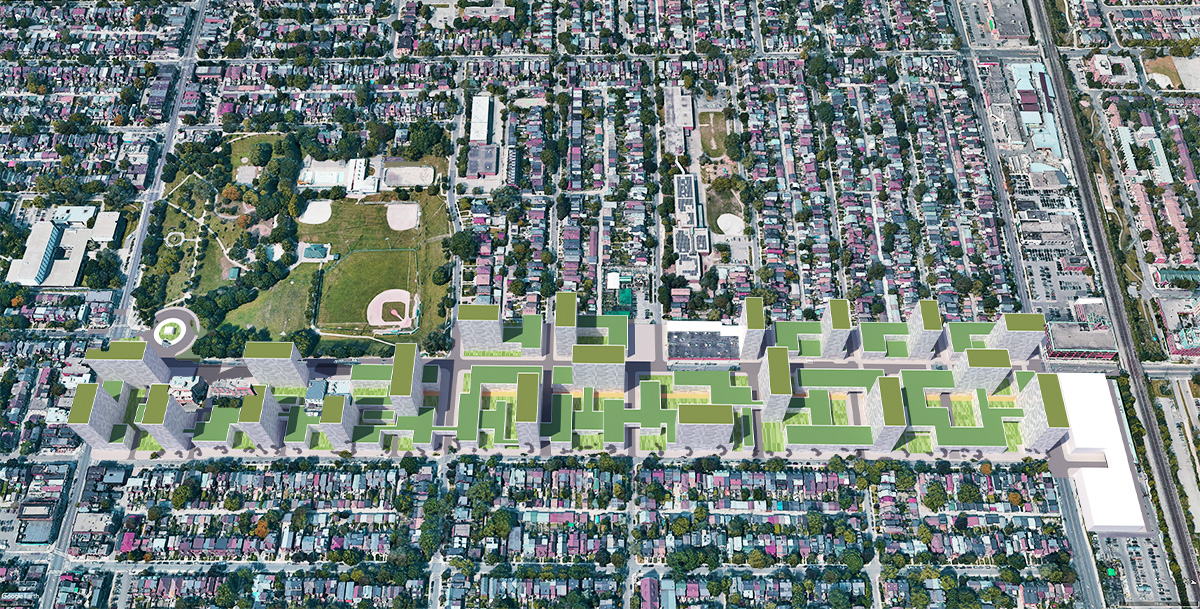 Brown + Storey Architects Inc. have been involved in the research of housing types that intensify the yellowbelt neighbourhoods along Toronto's north-south transit connected Avenues. This research is intended to explore opportunities to redevelop underutilized neighbourhoods and challenge the viability of the protected yellowbelt. Starting at the highest organizational level, the Park Lot system used to organize the initial plan of Toronto is uncovered and analyzed to understand the impact this has had on the structure of Toronto's existing grid layout and Avenues. Utilizing Christie Street as a subject site, new block patterns and organizations are proposed to explore higher density housing typologies. This project, titled Un_Avenues, is intended to challenge city planning ideals to respond to our prevailing housing crisis with solutions that radically alter the relationship between existing established neighbourhoods, multi-family housing, and connectivity between urban block configurations.
Existing Block Configurations 
Series E is an exploration of the existing block configuration between Shaw St., Harbord St., Manning Ave. and the rail line to the north. A new block configuration is proposed that connects the disconnected city blocks to the east and west of Christie St., a result of the Park Lot planning introduced over two centuries ago. Development options are proposed at various places along Christie Avenue and adjacent to Christie Pits park within this new block configuration.
Podium Buildings and Courtyards
Series A illustrates the blocks between Christie St., Bloor St., Clinton St. and Dupont Ave., including the properties immediately adjacent to the west side of Christie St. A series of podium buildings and towers are arranged around a system of connected courtyards and pedestrian routes, introducing a new organizational system within the typical Toronto block configuration. Plans show the connections between open spaces at the ground floor level and the sixth floor podium level moving north-south along the project site.
Multi-Garden Courtyard Building Types
Series D breaks down the housing type used within the Un_Avenue blocks. This type, named the Multi-Garden Courtyard Building Type, is shown with with four density options and a larger typical block configuration.
Ravine Connection
Proposed as a bridge between Christie Pits park and Bickford Park, a public mixed use building connects the public space of the ravine system parks. This building integrates transit, public amenity space, residential and commercial uses into one larger civic entity. The section and plans illustrate the uses at the subway, concourse, ground and rooftop levels.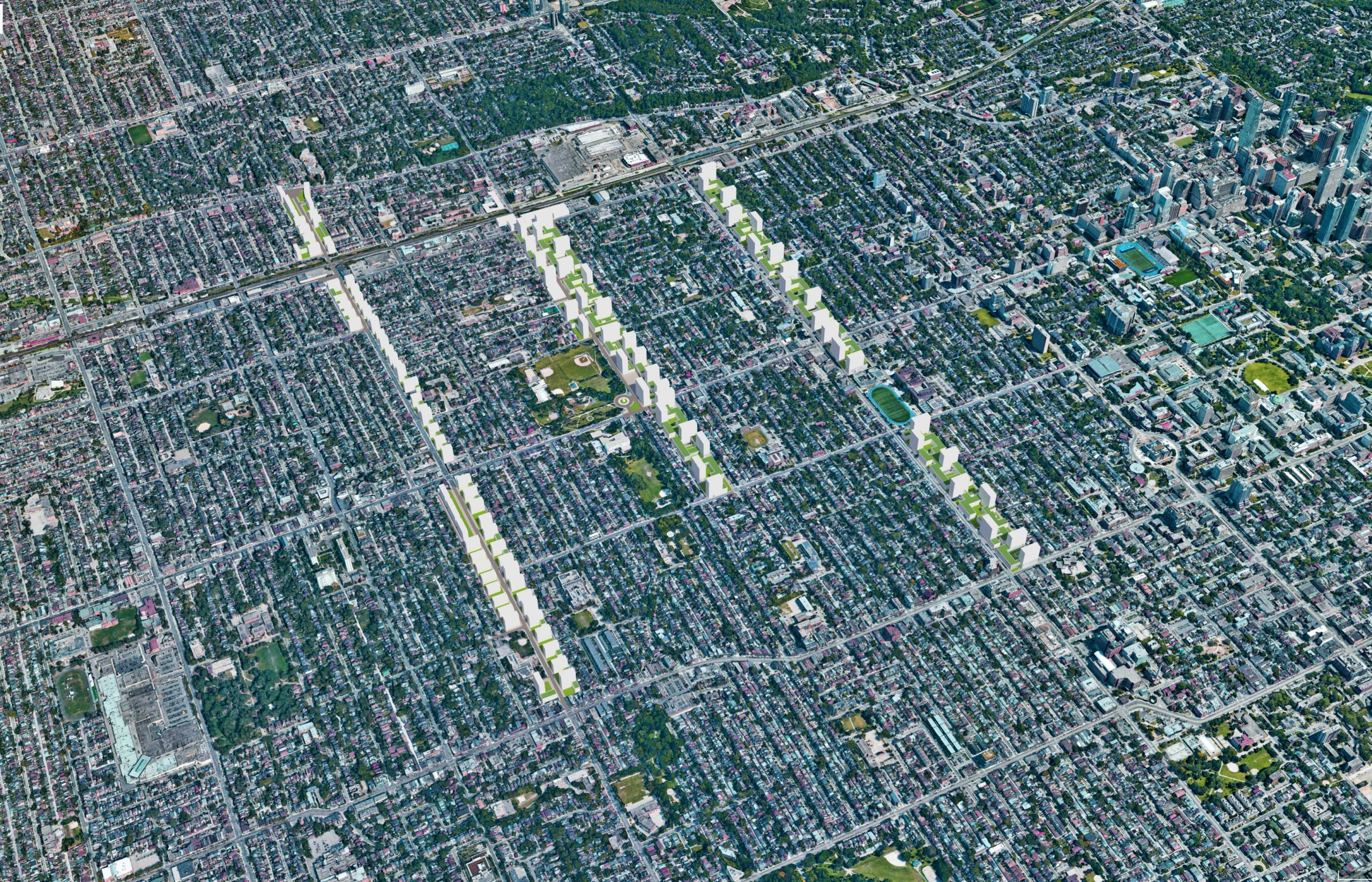 Christie Pits Speculative Landscape Plan and New Public Terraces
Now that more critical attention has started to focus on the quality or lack of amenities of Toronto's public parks, we are reflecting on some of our speculative proposals to design the park and its perimeter in relation to its adjacent street edge. Christie Pits needs landscape and urban design improvements.
Both the Barton Avenue side of Christie Pits and the Christie Avenue edge to the park are re-designed to make these edges more hospitable and accessible to a larger public. The simple fact is that these boundaries that share street space with the park are really only engineered, steep slopes, remnants of the park's origins as a quarry and aggregate extraction business. The steep slopes are mostly inaccessible. The speculations on both of these slopes introduces new ramps, terraces and graded surfaces that bring these marginal areas back to life and become habitable landscapes.
New Perimeter Housing Towers and Raised Courtyard Typologies
New courtyard and towers form the open and currently fragmented park edge to Crawford Street and Christie Pits. THe lower base below the raised courtyards contain worker spaces, shops and businesses. These courtyards and towers are connected to a raised walkway that links the Bloor Street and Christie Street frontage.
Bloor Street is reinforced by linear mixed use buildings that are connected across Bloor Street into Bickford Park to the south. These buildings and open spaces are intensifications of Christie Pits and forming a part of our Un-Avenues work that focuses on Toronto's north-south streets.
Submission Panels for 2021 Urban Design Awards