Warden Station Urban Design and Intensification
The various building options are meant to illustrate the flexibility of built and open space configurations for the Warden development site.  In particular the template organization promotes the open void and public spaces, while, at the same time, establishing vertical and horizontal masses, which leave the site open and simple.  The result is not a definitive version, but a flexible framework.
The options build on both the Warden Avenue and St. Clair Avenue frontages, but not in a strict wall approach.  The resultant open spaces relate to the surrounding ravines, while the towers form a landmark site.  The new entrance to the bus station and subway station is, in all cases, the primary focus of the massing and open space configurations.  This space is treated as a pedestrian square, from which access is gained from the corner of Warden and St. Clair Avenues.  Site lines and access flow toward the station entrance along the face of buildings or under buildings, which have been lifted up from the ground plane.  Alternately, the various options explore the creation of open spaces for either private communal or public use.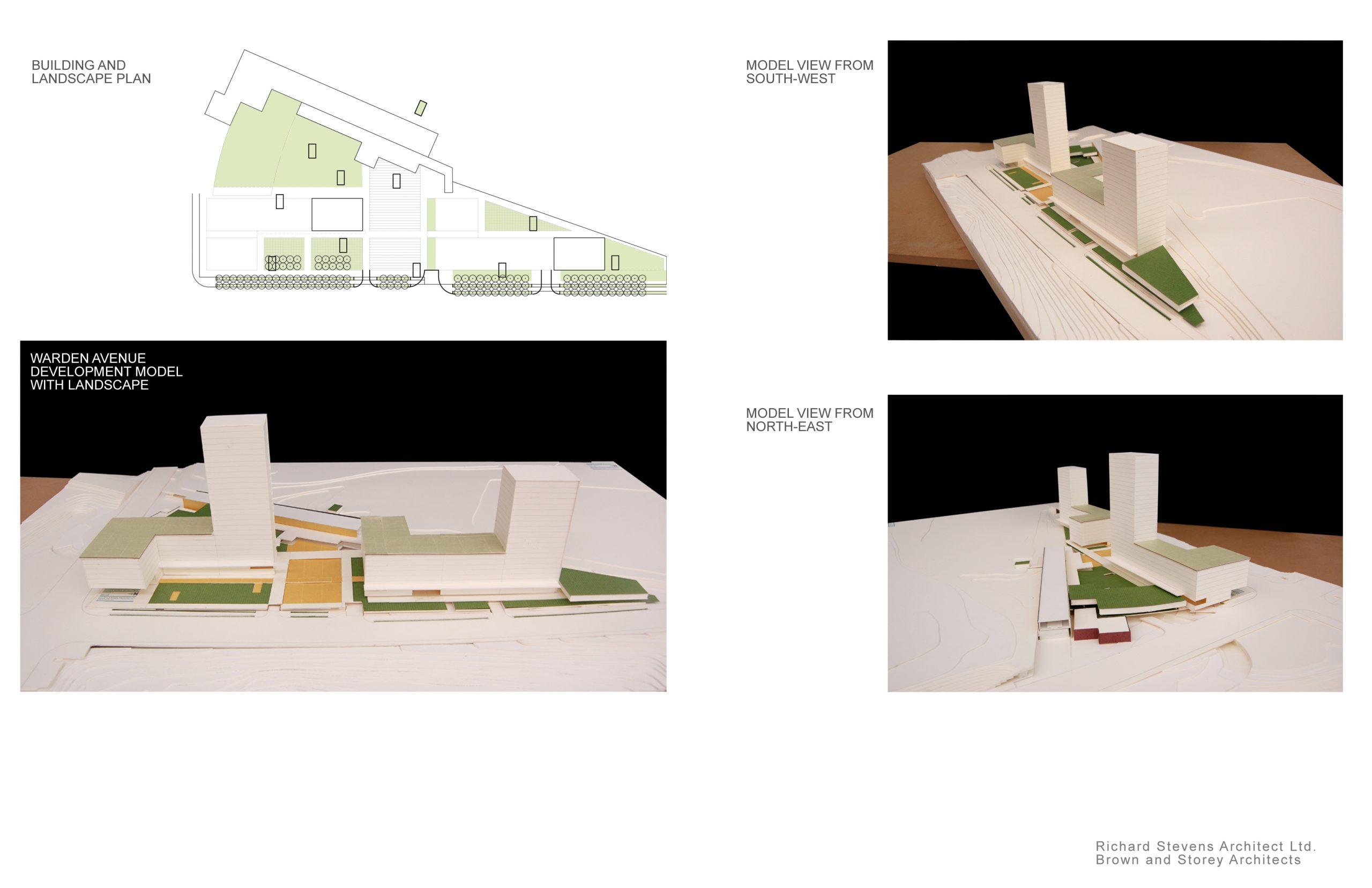 The towers and their eight-storey bases, are mostly 'L'-shaped configurations, with strong horizontal massing to creating localized responses to specific site conditions.  Conversely the towers rise into the air and establish a scale for the site and the larger region.  The site's vertical dimension is a response to its unique landmark status.  Twenty-one to twenty-four-storey towers are the most proportionally attuned with the eight-storey structures around them.  Thw towers must alternate back and forth from the streey face, to create less-obstructed lateral views without unnecessary crowding.  Given the longer East-West dimension of the site, the development may employ configurations of two or three towers.  They can also be used in conjunction with the station entrance to either create gateways or other informal entry sequences.
Both Warden and St. Clair Street alignments are established with low horizontal blocks and vertical towers.  The length of the site is divided into two phasing zones, which can be built in with a certain level of unity and economy.  The assumption is that the +144.0m level is a raised green podium, under which bus and development access can take place, to limit its negative effect on the site.  Entrances utilize the grade differential along Warden Avenue, to gain access to the site below.