Greenwich Mohawk Brownfield Site
Brown + Storey Architects Inc. worked as part of a team hired by Terrasan Environmental Solutions to prepare a master plan-level development proposal for Brantford's Greenwich Mohawk brownfield site, a 50-acre former industrial district that once hosted factories operated by Massey Harris and Cockshutt Plow. Canal Gardens was an ambitious proposal to restore this 50 acre site to an honoured status within the City of Brantford by employing the highest architectural standards alongside the latest innovations in remediation technology. The proposal would reconnect the recently derelict and abandoned zones of this industrial district back into the normal life of the city.
Working with a unique wedge shaped site formed by an historic pre-1840 canal and early trail, and further divided by a still-operating railway spur, this was a challenging site. Our proposal was to encircle the new neighbourhood with a generous linear park that immediately transforms the forbidden nature of the site through an inviting and calibrated system of green open spaces that not only encircle but serve as an internal framework. This green framework was to include laneways, commons, pedestrian routes, squares, neighbourhood parkettes, wetland park, a large community park and terraced berm, working together to mediate and integrate the neighbourhood into this challenging geography.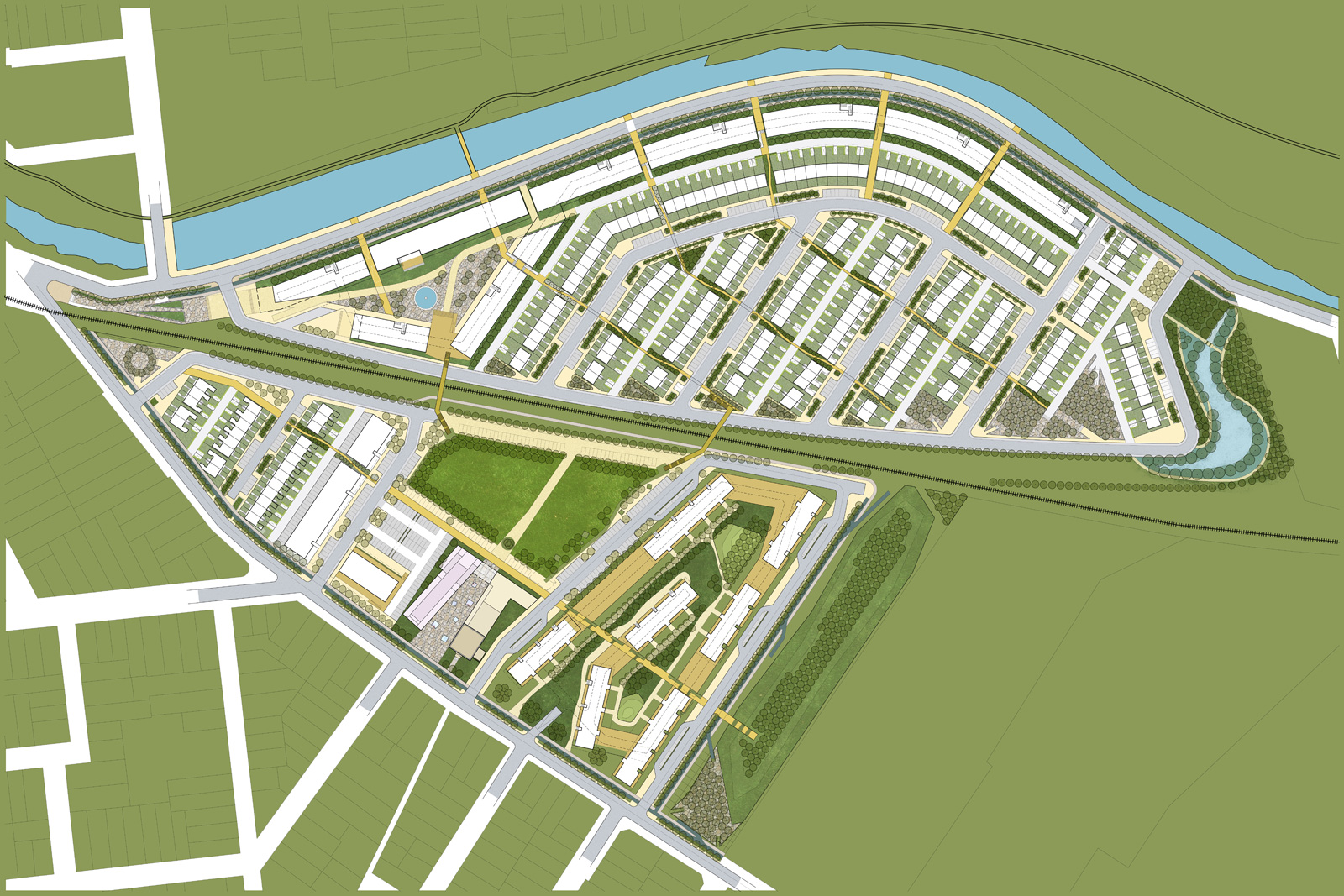 The particular geometry (a double bow divided through the middle by the railway spur) of the site inspired an innovative response of east-west bowed streets in the north precinct mirroring the canal, and north-south streets in the south precinct knitting into the existing residential fabric to the south.  Where these geometries meet at the existing spur line, a broad linear greenway knitted the two sets of streets, open spaces and housing into a generous green linkage which in turn connects to a natural trail system of the city. The remaining historic buildings (most had been destroyed by fire in the decade previous) would be restored to a new home for the Canadian Military Heritage Museum and the Canadian Industrial Heritage Centre, and to an allotment of generous loft units.
The full vocabulary of street sections and open spaces are mirrored in the fully integrated set of residential typologies: terrace loft buildings, townhouses, garden court apartments and three-storey walk-ups to create a full urban landscape.