Bike Shelter Prototype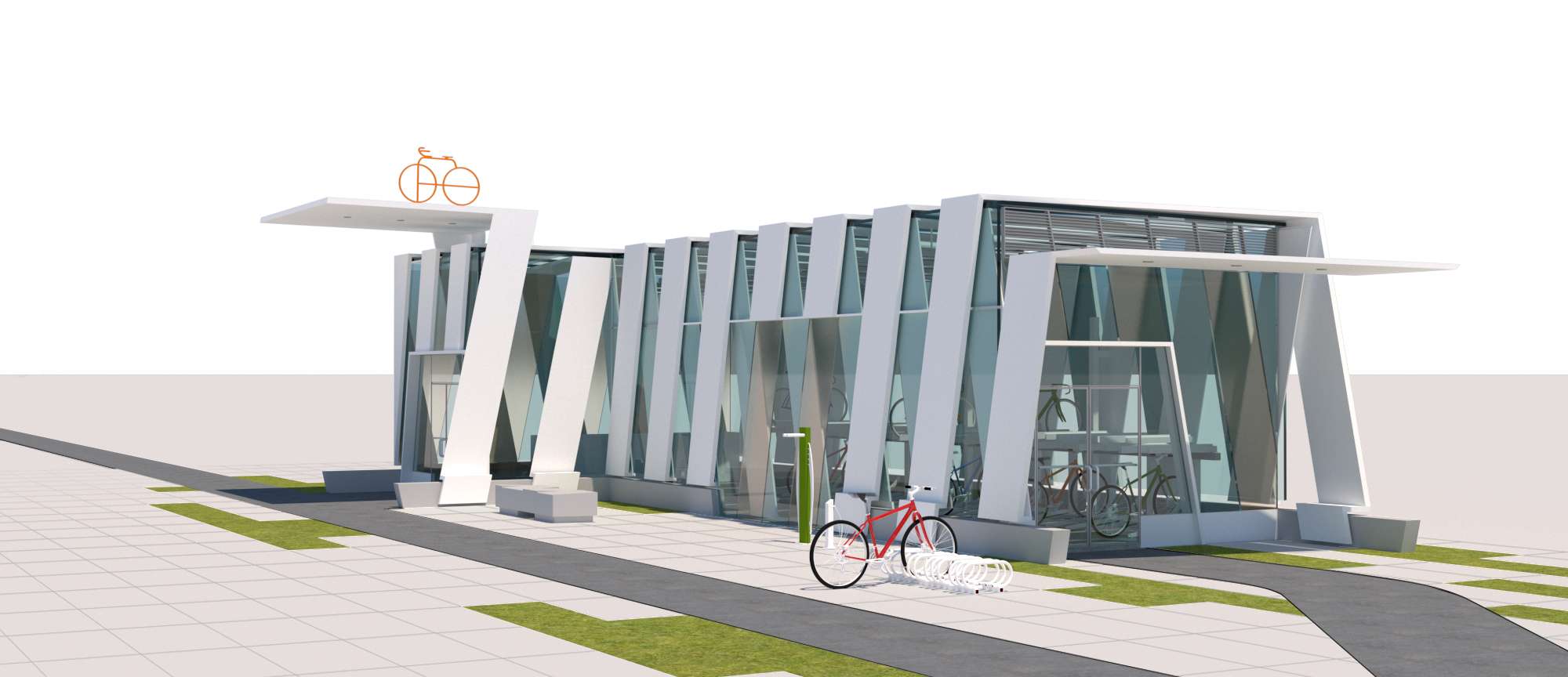 This prototype for a bicycle storage room proposes a new innovation for cycling infrastructure facilities. The idea of the structure is to retain openness without overly defining inside and outside space as in a container. This anti-container approach utilizes framed steel banding to create a mesh that is open yet framed, while providing security and protection for bicycle storage. Suggested through its construction and visual effects, this framework speaks to cycling as an evolving and expanding mode of user transportation.
The bicycle storage room has the capacity to adapt for future desires and present needs. It can be economically constructed and modified, allowing for complementary substitutes for various parts of its construction.
Structure
The steel rigid structure is a continuous folded element that equally distributes loads across all members and simultaneously behaves as wall, ceiling, and floor. A combination of two folded rigid frames interconnect in sections and are fastened together. The primary structure is a slightly angled frame composed of structural steel, galvanized and powder coated. The inner steel frame runs in the opposite direction but is of a thinner and more lightweight construction that can be perforated to carry lighting and storage elements. The raised foundation wall creates an saddle condition which anchors the folded structure.
2022 Update: Accommodating New Types of Bicycles
The current e-bike phenomenon, comparatively speaking with the electric vehicle charging technologies, is missing the opportunities to leverage new infrastructure, equipment, and community and economic spin-offs. Additionally, while road space is being given over to new bike corridors and networks, there seems to be a corresponding lack of infrastructure being proposed to service and accommodate this new technology and community of users.
The bicycle shelter concept can be adapted to meet the needs of the growing e-bike community. Given the weight of e-bikes, they can simply be accommodated parallel to the stacked bicycle storage in their own horizontal rows. As the storage area can expand, it is also capable of supporting a "double loaded" charging condition for e-bike batteries. The storage room could easily accommodate sliding doors and other adjustments for easy entry and exit.
We have responded to feedback and adapted our bike storage structure to accommodate an expansive range of new bicycles. Along with standard bicycles, this shelter is designed with e-bikes and cargo bikes in mind. The storage structure can expand in length while slightly modifying its inner profile, thus providing for an optimum number of bicycle stands. Sliding doors replace the two entrance and exit locations within the shelter configuration. Additionally, we have replaced the exterior bike rack with a line of Sheffield-type bike racks. The design provides for bike repair locations as well as social and entrepreneurial space, giving the storage structure more functional and adaptable space for future changes and adaptable new cycle infrastructure needs.
Read the article on Treehugger.com here.