Electric Vehicle Charging Infrastructure: Pangaea Station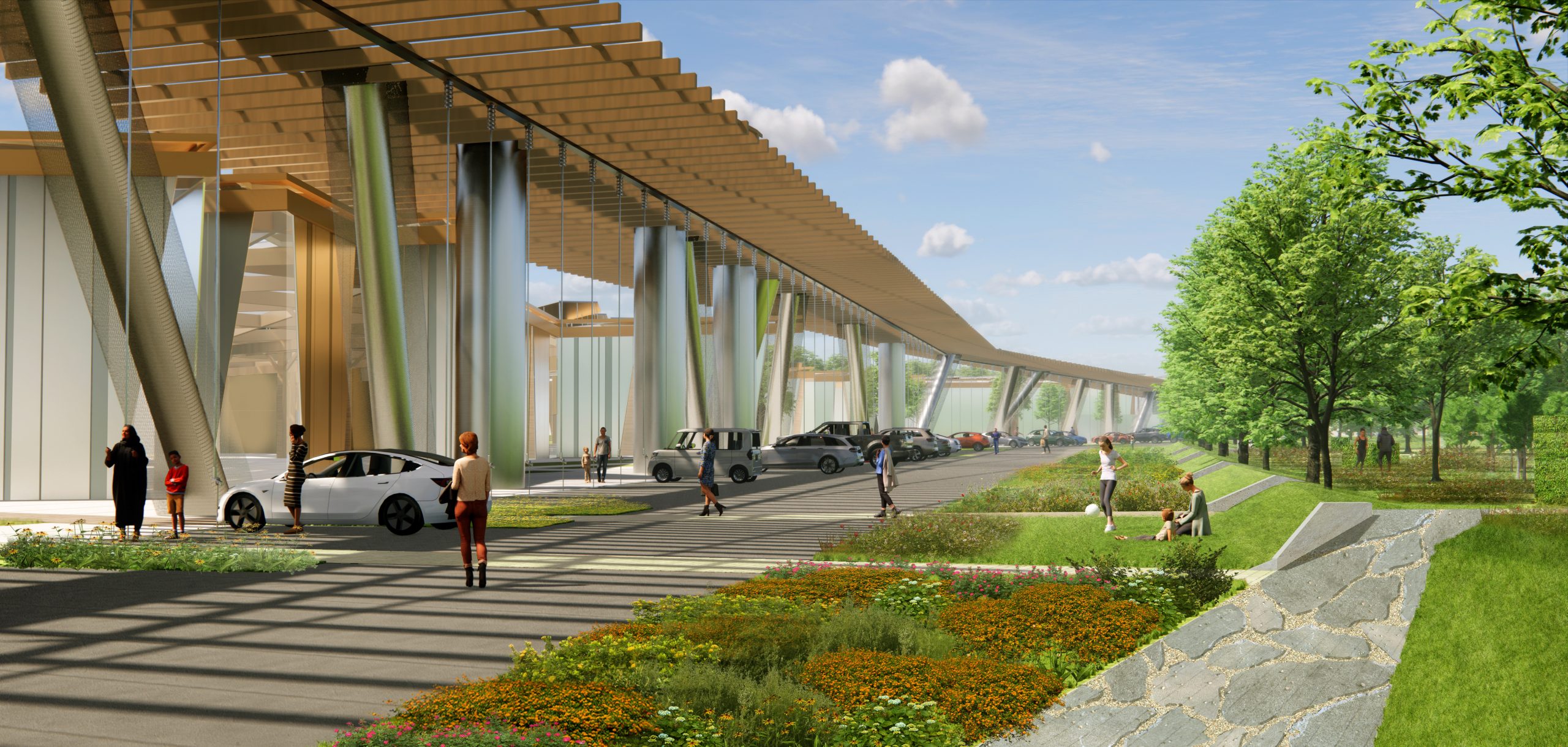 Our approach to the challenge of public electric car charging infrastructure along major highways treats the travelers as agential activators, engaging with technology, media, culture, and landscape. As much as the structures are architectural, they are apparatuses and instruments that interact with site and climate, and attempt to partially improve the environment they occupy.
We have selected an ONroute service station along Highway 401 near Bowmanville, Ontario, but have rethought its relationship to the land in a more fundamental way. Where the large historic territory of Highway 401 has ignored geological strata, culverted rivers, fragmented forests and disconnected natural pathways and courses, Pangaea Station acts as an instrument to connect lines of energy and engagement of the landscape. The two main structures are a large pergola, which provides shade and cover for the charging stations, and the adjoining atrium, which contains a series of defined internal rooms and facilities.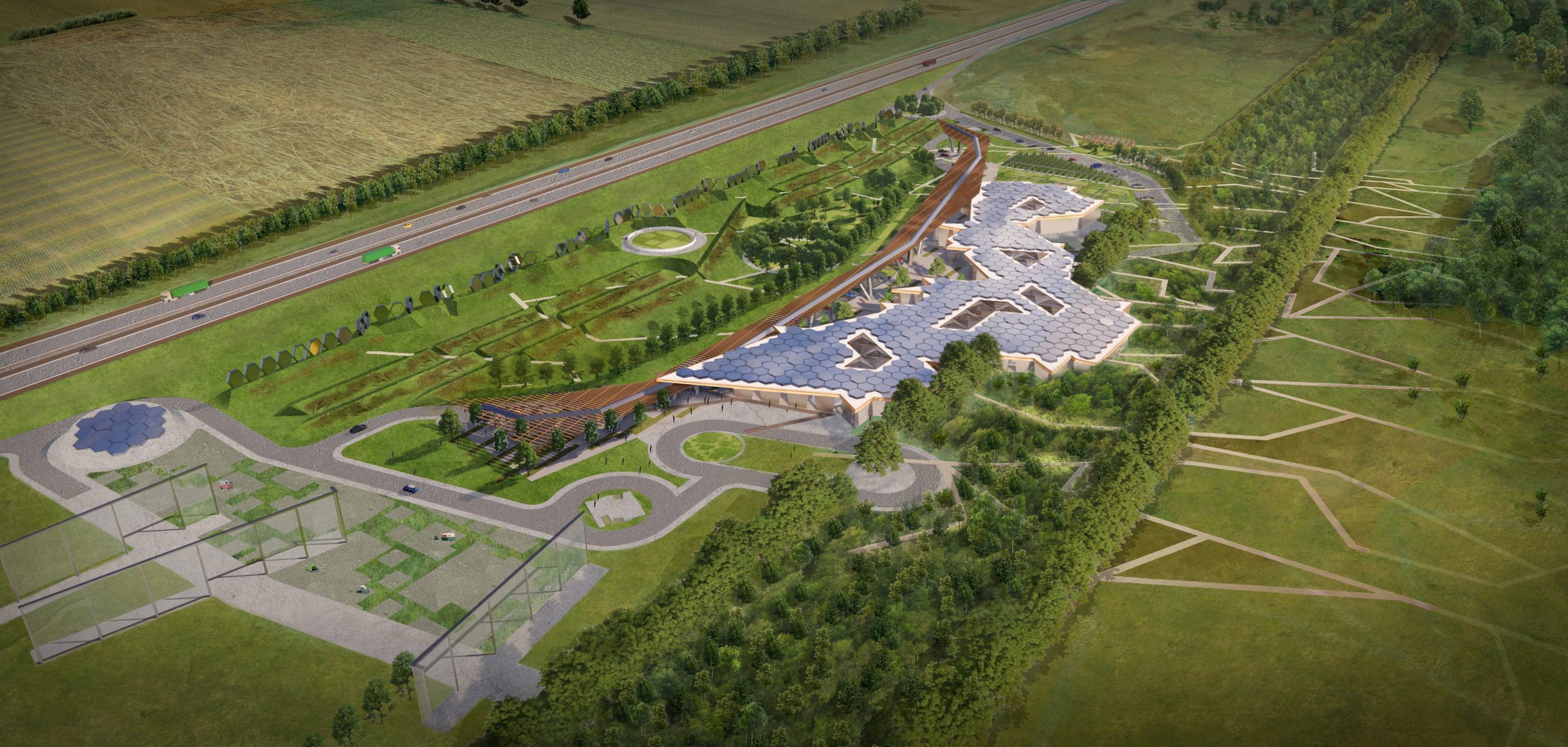 The Shade Pergola
The space under the shade pergola is the main arrival and charging space. This is the moment and very significant innovation in our charging station where social, environmental and energy dreams meet. The pergola structure is a panoramic arc, a threshold to the Electric Station to the south and  the multiple striations of gardens, meadows, and the Green Solar Frieze bordering the highway to the north. The pergola is interlocked with the main atrium structure, creating courtyard areas in between. As a shade structure, it is intended to be large enough to compete with the adjacent landscapes. The long and elegant pergola, with its filtered light, becomes an arrival garden with special places to walk, pause, and enjoy a unique environment.  The gardens and treed spaces along the underside of the shade pergola offer an opportunity for the travelers to unwind, pause, and have a coffee or something to eat from the adjacent restaurants.
The Atrium
The primary entry into Pangaea Station is a covered yet open atrium that frames views both of the outside landscape and the station interior. This space can be modified by a series of indoor/outdoor curtains that can adapt to seasonal and day-to-day needs. The atrium also places raised plinths to support event potentials for exhibits and media information for travelers. The special light effects and surprising views into the landscape act as a stage and frame for the nomadic travelers. The main building is separated by seven "bents," which are contemporary interpretations of traditional barn framing. These bents divide the main structure into eight large rooms, strung together by exhibition plinths, which can display media elements to promote the local economy and culture. Interior program elements also include a garden centre, co-working offices, restaurants, indoor/ outdoor cafes, retail space, and room for other partner-user space potentials.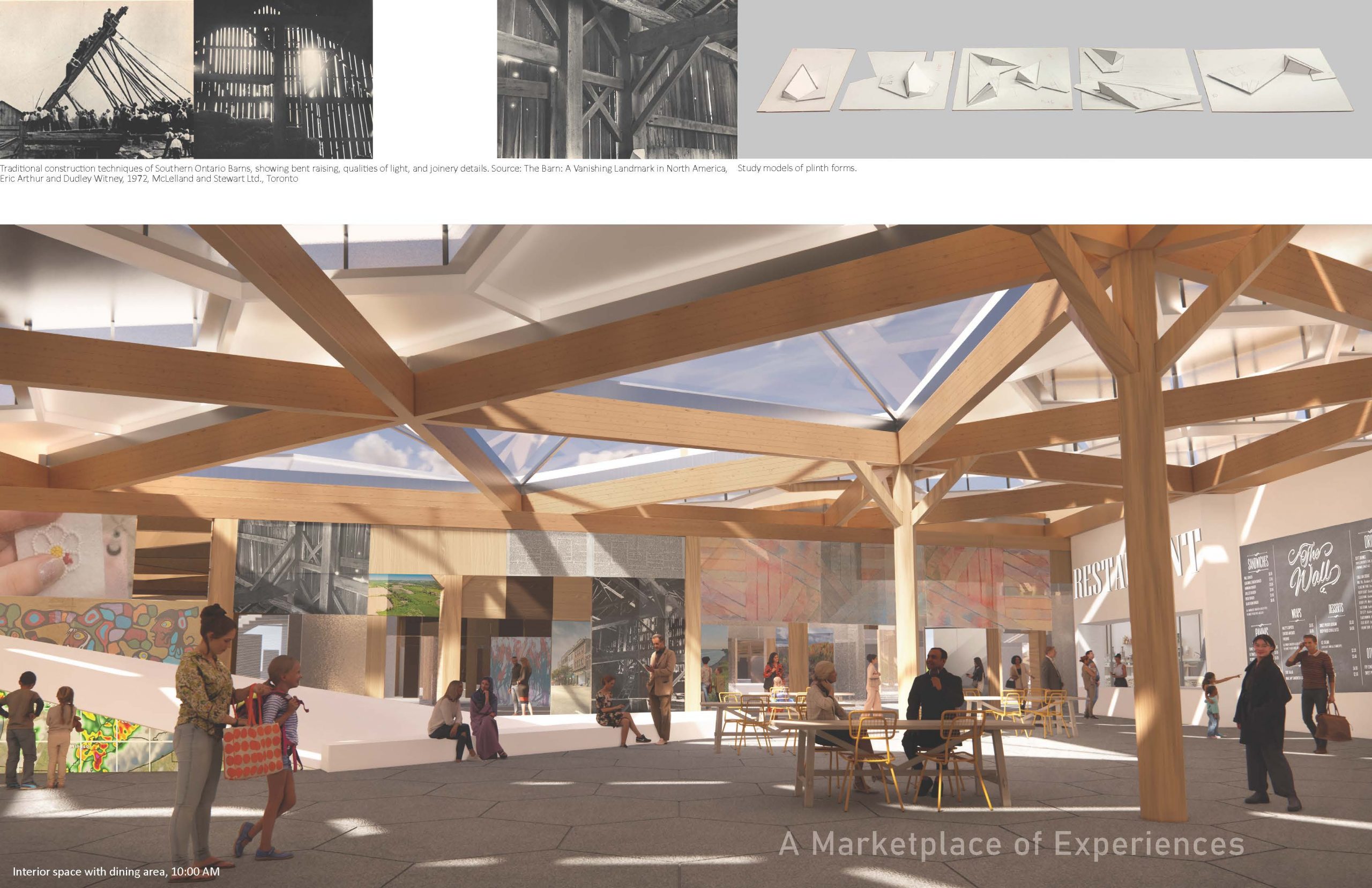 The Official Video
See our competition boards for Electric Autonomy's 2021 design competition below: