Buffalo DL&W Corridor Competition Entry – Elevating Landscapes in Movement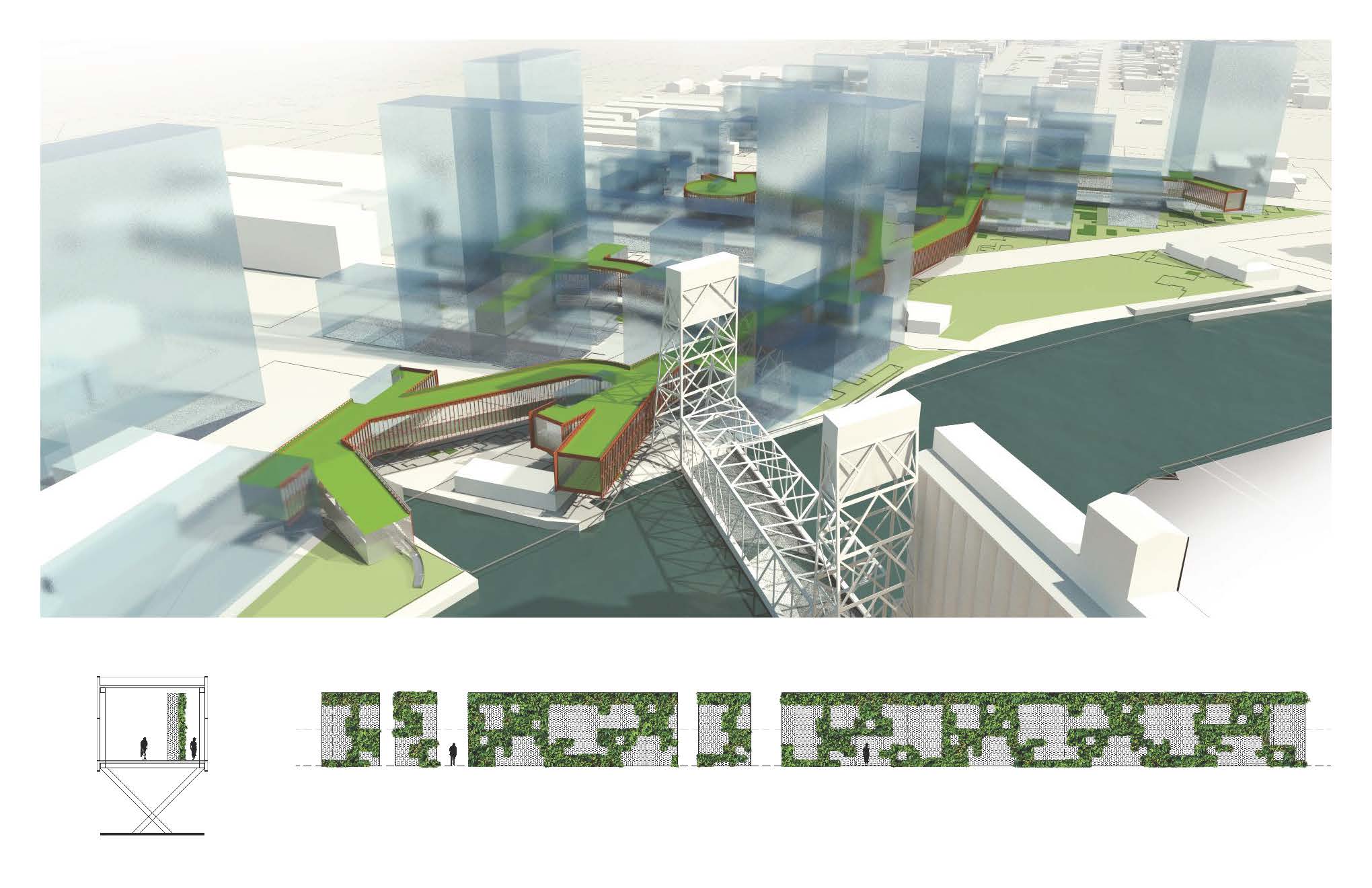 This project views its physical transformation of the DL&W corridor as a bioreactor – where the insertion of a new landscape ignites and integrates new ideas, cultural programs and refreshed ecologies throughout the former railway precinct. The new linear park takes its conceptual beginnings from the Buffalo River, whose meandering rhythm initiated original settlements, and the raised berm now disconnected from its surrounding context. These two founding elements inform a new functional integration within a presently jumbled landscape, where the linear park and its engagement with connectivity, complexity and discontinuities sets in motion a co-evolving reaction anticipating growth and revitalization of parkland, waterfronts and neighbourhoods through a carefully composed set of braided paths, gardens, forests, nodes and crossings.
Tracing the railway berm, the linear park is a 33 foot wide braided system that weaves together cyclists, pedestrians, plants and trees. The green network of two flanking walks, cycling path and wide planting strip as primary strands highlights gardens and distinct tree planting groves expressing sound, scent, and sight, in a new urban forest.
This circuitry is punctuated by elements marking engagement with adjacent neighbourhoods, parks and attractions. These nodes – named eggs, mushrooms and plateau – are sited to recognize existing and new intensities. Eggs are raised landscapes encircled by the linear park, making middle spaces – mounds, sunken, raised –equipped with a repertoire of social spaces for events and garden assemblages. Mushrooms are elevated landscape structures enclosing an earthen core infilled over time by wind and seed for unplanned greenery. The mushrooms, accessed by stairs and ramps rolling around their core, are connected to wooden truss bridges, simple but robust, that are first encountered at the Crossing and are used along the corridor to seamlessly move over railways and intersections.
Shadowing the braided path is the Sanctuary Plateau – an inaccessible natural preserve, 32 feet wide and 20 feet high. The natural ribbon plateau is built up by gabion walls forming internal stepped ledges and niches, filled with recycled materials supporting a new urban wilderness. The undulating enclosure with views to its interior, and crossed by public passages, is a catalyst for natural process, migration seeds, birds and insects in a separate preserve.
Providing a new civic landmark just beyond the double bridge, a colossal solar disc is sited at a key node along the braided path trajectory. The solar disc provides electricity for street lights and other power needs.
Intersecting the plateau and braided path is Smith Street which is re-imagined as a tree-lined, porous, community commons terminating at the river, programmed with enclosed gardens, public amenities, enclosed gardens, boardwalk and stairs up to the raised linear park.
Beyond the limits of the DL&W site, our project proposes a conjectural infrastructure that extends the DL&W corridor to Canal Side as an elevated 'floating' green frieze that transposes the linear park into an enclosed structure that creates spurs into future buildings and anticipated development. The green frieze augments the linear park above the streets into a continuous parkway. The internal green wall is enclosed with exterior walls of louvered glass and green roof with solar collectors; the underside of the frieze becomes a public ceiling/elevation that in turn ignites a newly marked way below the frieze.
Competition Boards